Ukulele Workshop
June 1 – June 3, 2015
2014 Ukulele Workshop
Photo by Susie Parrent
(By clicking the link above, you will be transported to the KFF ticketing page. Make sure to scroll down to the Schools & Workshops section of the Ticketing Page to find the 2015 UkuleleWorkshop.)
2015 FACULTY:
Del Rey - Director
Jim D'Ville
Aaron Keim

General Information:
During this 3-day course, small group sessions will cover the basics to the fine points and will allow students time with each faculty member. The workshop will be held in the Threadgill Theater (in the Quiet Valley Ranch campgrounds) Monday, June 1st thru Wednesday June 3rd, from 10 a.m. to 3 p.m. each day.
Players of all levels are welcome. Please bring your Ukelele/accessories, a notebook and a portable recording device (if you have one).
Pre-paid reservations are required. If you pay prior to May 10, the price is just $180. Admission goes up to $215 after May 10. Your registration fee includes the class, a special Kerrville Ukelele Workshop t-shirt, tent camping, lunches, and admission to the Sundown Concerts for class days.
Enrollment is limited. You may register on-line by visiting the Ticket Page, or by calling the festival office at (830) 257-3600. Make checks payable to "Kerrville Folk Festival" and send to:

Kerrville Folk Festival Workshops
PO Box 291466
Kerrville, TX 78029
2015 DETAILED SCHEDULE
ABOUT THE FACULTY
Del Rey
(Hood River OR)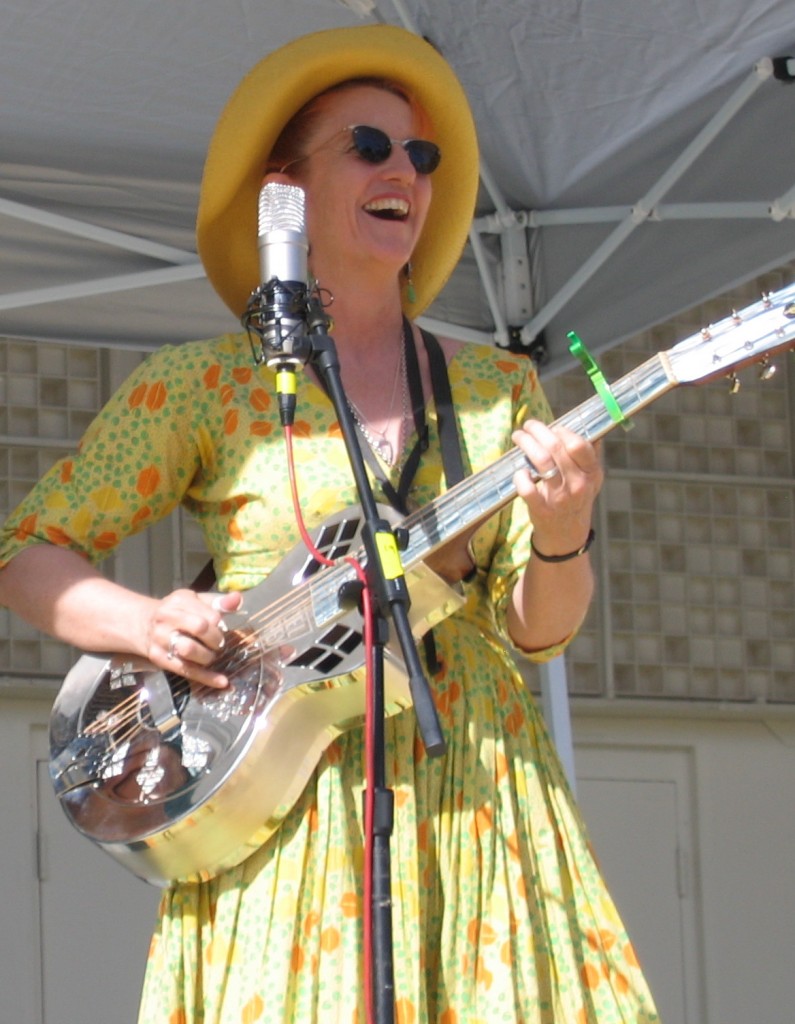 Del Rey started playing guitar when she was four years old. At thirteen, she was immersed in the world of folk music, especially blues and jazz from the '20s and '30s. She has tried to get a whole band onto her solo instrument from the beginning. This gives her music an interesting complexity, especially when applied to the ukulele.
Rags, blues and tunes of the early 20th century are her specialty, even as she writes new music to add to the tradition. She has taught and played all over the world, and also brings her distinctive fingerstyle approach to guitar and ukulele to people through her teaching DVDs on Homespun "Boogie-Woogie Guitar" and "Blue Uke. Her website is www.delreyplays.com and her albums can be found at www.hobemianrecords.com.

Jim D'Ville
(Los Osos, CA)
Jim D'Ville is a music educator and facilitator who is on a mission to get ukulele players off the paper and playing music by ear. He has taught his Play Ukulele By Ear workshops to thousands of players in the United States, Canada and Australia. Jim is the author of the Play Ukulele By Ear DVD series and hosts the popular Play Ukulele By Ear website http://PlayUkuleleByEar.com